Well after much deliberation, i've finally pulled the trigger on the new Retina MacBook, after finally looking at what I generally use my laptops for, it turns out I don't actually do too much power computing, mainly a little bit of Outlook, Remote Desktop connections, and some IRC, and web browsing, so I'm hardly going to drive it hard. I do however had 2 months
On to my main point though, the one thing that has been worrying me slightly is the lack of ports, day to day I barely use any USB ports, except maybe for time machine backups, and copying an occasional driver to a USB stick, I'm not a fan of the Apple solutions for splitting the single power / USB C port, and their disgusting view on pricing, why oh why couldn't they include a USB adaptor in the box?
I've looked around and people are starting to create solutions, the one thats really caught my eye has been the Hub+ on Kickstarter, and for the first time i've decided to invest in a project, the Hub+ seems to do a bit of everything, the only thing missing is an Ethernet port. Still it does look very nice indeed, and as the new machine isn't being delivered until the end of July i might even have it in time.
I was reasonably happy until I saw a press release from OWC that they are releasing what would appear to be the ultimate in docks, but is a little more expensive, it does however include an HDMI connection, and the elusive gigabit network port, I have a feeling there may be another purchase coming soon.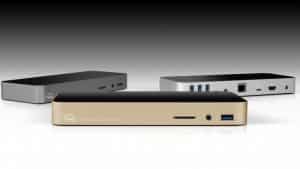 press release can be found here : http://bit.ly/1MlEegw