For some time I've been looking at getting a small bluetooth speaker, but not really had a valid excuse to buy one (according to the wife), but now with a small camping trip booked in the next month or so, I was allowed to purchase one.
My first thought was to just plump for the Beats Pill, but imho its a lot of money to be spending on what is effectively a toy for me, so I set myself a limit of £100.
For some reason the TDK A34 caught my eye, I like red and black things for some reason, reviews on Amazon were reasonably good, and of course delivery was free with Amazon Prime, what more could I ask for? This was a real impulse purchase on my part, ordered at 10pm on a Monday night, delivered by 1pm on Tuesday morning.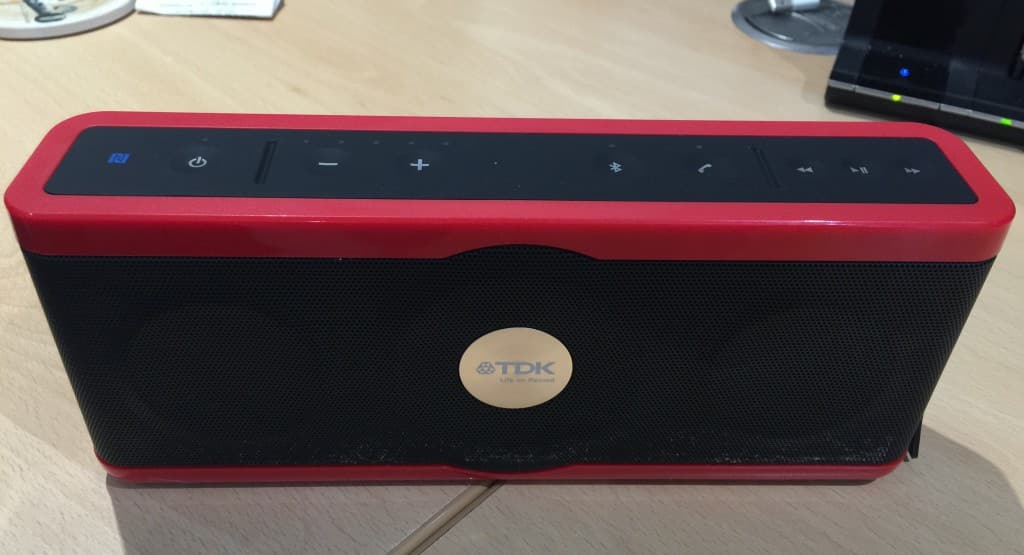 For some reason I was expecting a larger device, the packaging was pretty plain, but protected it in transit and from the oaf who dropped it in his haste to get it unboxed!
Within a few minutes it was unboxed, plugged in, and connected to my iPhone, sound quality is about as good as I was expecting, certainly not in the realms of Sonos (the only small audio systems i've had experience of before), but easily good enough to take on our camping trip for a couple of days.
One feature that did attract me to the TDK was that its weatherproofed, how effective that weather proofing is I don't know, but something must be better than nothing, mustn't it?
The only bad point i've found so far, is that it comes with a sticker along the bottom of the grille with all the features it has listed, I tried to carefully pull the sticker off but its left residue all along the bottom of the speaker, I guess a little water and cloth will clear it, and at least test its weatherproofing!
Will follow up this post with a usage review when we've taken it out into the wilds of Cornwall.