CES 2017 : Day One
Well CES has finally arrived, and I'm in Vegas.
The usual madness ensued actually getting to the show, taking the mono-rail from MGM Grand to the conference centre. I have to admit the guys doing the directing do a very good job.
Our mission today was to tour the Central and Southern display halls, and we managed to cover both quite successfully, the focus seemed to be on VR headsets and just like last year big screen TV's and drones, none of which hold much of interest to me.
The highlight for me today was the Nikon stand, which just like every year had the same format, with lenses and camera's in one corner, 360 photography in the other, and the usual stage for displays from Nikon ambassadors.
Now I am not a great fan of VR and don't really understand why anyone needs to bother with it, but seeing a presentation from Corey Rich really impressed me and change my whole outlook on VR, this looks rather interesting!. He was demonstrating how he used the "Nikon Keymission 360" for a project for google maps in Yosemite mapping El Capitan mountain face. Basically a camera that can be used for 3D photography and software on your PC, tablet or smart phone to view the output.
He said it was a total change in the way he thought about photography, instead of defining what the viewer see's they now have the opportunity to scroll around and move to any point in the picture whether its the view the photographer wants or behind the focus, or above or below. The demo was obviously well rehearsed and content was top quality, but really illustrated how effefctive it can be, the demo consisted of tablets and VR headsets, I tried the tablets, but using VR headsets makes me feel nauseous unfortunately. My friend tried it out and was impressed though.
The next booth that caught my eye was the Synology one, showing off everything from the DS216's right through to the new DS3617xs which is a beast, specs as follows:
Intel Xeon D-1527 Quad-Core CPU (2.2GHz that can be burst to 2.7GHz)
16 GB (up to 48 GB) DDR4 ECC SODIMM across 2 Slots
2 x USB 3.0 port
4 x 1GbE (RJ45)
AES-NI Encryption supported
BTRFS internal operations
Virtualization support for VMware®, Citrix®, Microsoft® Hyper-V® and OpenStack®
Latest version of DSM 6 compatibile
Synology Replacement Service Cover Included
PCIe slot for 10Gbit network adaptor
12 drive bays
The ability to connect a further 2 DX1215 expansion units to increase the available bays to 36!!! using the new 10Tb drives you could have 360Tb configured through one unit!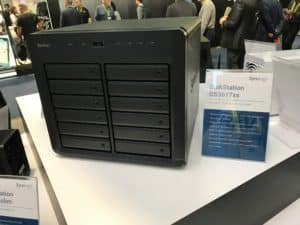 They were also displaying their range of routers which comes with the same interface, I would have liked a demo of the routers, but we were running out of time so gave that a miss.
Finally the maddest product we saw today was the Razer Project Valerie, this thing was insane with three, yes three 17.3″ UHD screens (3480×2160)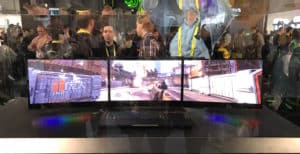 Not only are the screens all the same size, giving a total resolution of 11,520×2160 resolution, but the things are motorised, no manually putting them into the right position, they move themselves. How's that for cool?
Tomorrow we're covering the Sands Expo hall, which contains the Smart Home and Fitness gadgets. more to follow.