CES : TP-Link Talon
2016 is going to be the year of the BIG router! seriously, it felt like the manufacturers were trying to beat each other on size alone!
My personal favourite was the Talon, it must be almost a foot square!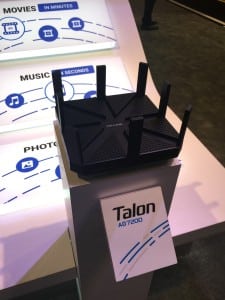 Apparently its the world's first 802.11AD access point, which is the most power innovation in wireless technology yet.
quote:
With the number of smart devices in the home steadily rising, consumers need more bandwidth to ensure seamless connectivity. Leveraging Qualcomm Atheros' 802.11ad wireless technology, the TP-LINK Talon AD7200 Multi-band Wi-Fi Router uses a new frequency with untapped bandwidth and channels at 60GHz. It also utilizes existing 2.4GHz and 5GHz bands, resulting in combined unprecedented 7Gbps Wi-Fi speeds throughout the home as well as combines 802.11ad with 802.11ac MU-MIMO to provide a step up in capacity. Superior to the standard dual-band structure, the router transmits locally stored media and content from the cloud drastically faster, ensuring that devices function at prime performance. With the TP-LINK Talon AD7200 Multi-band Wi-Fi Router, consumers can download an entire feature-length 4K HD video in about four minutes or transfer a thousand photos to a storage device in approximately five seconds, without any concerns about network interference.
So there you have it the Talon, the biggest consumer router yet!