I've had an Amazon Alexa and a few Dot's since they were released in the UK. I was initially quite excited to get the product, but it didn't take long for me my enthusiasm to wane and lose interest in it. The initial novelty of asking Alexa what the time was, or what tomorrow's weather is, soon became boring.
I spoke to Loxone tech support about it, and the general response was perhaps one day, but it wasn't a priority.
Several months ago I discovered Audible's audio books, which sadly Sonos don't support any more, so I decided to resurrect the echo Dot's which make a great little player for the Audible books, not that i should be surprised as amazon push it heavily.
Fast forward several more months and I've discovered Voxior.com so far its the only alexa skill i've considered buying, so what does it do?
When you first login, you're asked for your mini-server address, login and password, then goes off and does some magic, 5 minutes or so later, and a list of commands you can issue to control the mini-server.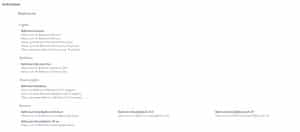 So does it work? well yes, but there are a few funnies such as "Alexa, turn on Whole House Turn Off All Upstairs Lights." i have to admit its quicker to press the "goodnight button" I cant deny it works most of the time, and €99 for 3 years isn't too expensive.
I do wonder how long it will be until the novelty wears off again.